Most of my "treasures" have just been thrown up on top of the cupboards, waiting for me to do something with them.
Above the sink. More junk just thrown up there.
My most recent and favorite find, the Red Rooster!
I LOVE my curtains!
Pot rack out of my old shop. We brought it with from our old house. It really helps free up cupboard space.
Messes and clutter, this is what I woke up to.
We don't have a liquor cabinet, and this has been sitting here since we moved 1.5 yrs ago.



I moved all the magnets to the side of the fridge so they don't dominate the kitchen. There is a HUGE void above the fridge, and I am not sure if I should just leave it alone, or if I should add something.



The lamp came out of a resale shop, and my hubby replaced the "guts" for me. The shade it too big :( I think I need to look for another one at Hobby Lobby. But you get the idea. My cookbook stand came from the Community Thrift store, and my Cheese cloche and pears are all thrifty finds.
More community thrift finds. We boxed up all the other clutter, until we purchase or RE-purpose a liquor cabinet of sorts.
My Dad's carnival glass...I end up making compromises to keep the peace ;)
I found the large platter like this one at the Salvation Army, then found this small one at TJ MAX! I was in disbelief when I realized that the one I found at the Salvation Army was brand new!!!
Beaded grapes from pier one in the middle dish, also from the community thrift store. I will need to use this in a vignette someday.
This is sooo much better than before, doncha think?
Here is the LARGE platter from the Salvation Army, and my Community Thrift rooster!
I am not crazy about how it looks above the cabinets right now...It needs something. What do you think?
Clean counter-tops!!
Please, ignore the bubble in the laminate counter-top that is on my hunny-do list.
Both topiary and the fruit basket are from the Community Thrift store. I love the way it looks filled with apples!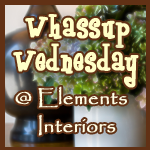 78201